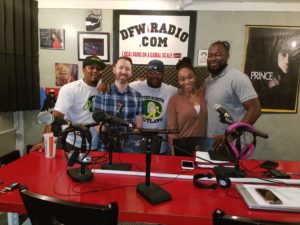 Community Frontline members have enjoyed the privilege of being guests on the "Meet the Stewarts" radio show. Meet the Stewarts is hosted weekly by Shannon and Michelle Stewart.  Each week, the Stewarts facilitate and engage in conversations surrounding family, relationships, and societal issues, among other things. The Stewarts use their life and marital experience to bring to light various viewpoints on important issues.
Dante, Derek, and Quinton of Community Frontline appeared on the show earlier this year to talk about Community Frontline and to speak about issues happening within the City of Fort Worth, among other topics (click here for blog and video).  Also, Dante and Quinton appeared as a guest on the Father's Day addition of the show, which addressed the question "What do fathers want?" (see the video below)
This question would take more time to answer than any media platform can offer, but there were a few consensus responses—namely health, safety, and happiness for their families. This is not much different from what mothers (or anyone else for that matter) would want in this world for their loved ones.  And that very well may be the point. People from varied perspectives are mostly striving for the same things for their environments.
Community Frontline is hoping to aid in the pursuit of equity for all people seeking to find health, safety, and happiness for their families. And we are committed to mobilizing men to enter into and alleviate the sufferings in their communities—an effort that begins at home.
We would like to thank the Stewarts for honoring fathers and consistently being willing to share their platform with Community Frontline. You can catch Meet the Stewarts weekly on DFWiRadio.com and catch their Facebook Live stream on www.facebook.com/meetthestewarts.
Blog post by Quinton Phillips.