As Dr. Martin Luther King Jr. famously observed, "[i]n the end, we will remember not the words of our enemies, but the silence of our friends."
According to the United Way of Tarrant County, 1 in 7 residents in our county live at or below the Federal Poverty Level, 1 in 5 children live in a family that is considered poor, and 1 in 5 children care for themselves after school.  Further, 29% of African-Americans live in poverty, as do 33% of Hispanics, as compared to only 12% of Anglos.  These stats are not good.
Regrettably, these sorts of statistics are even more stark in East Fort Worth.  According to the City of Fort Worth's website, the Stop Six neighborhood has an employment rate that is two-and-a-half times the city average.  Approximately 78% of the population of Stop Six, moreover, is categorized as low-to-moderate income, and 65 per 1,000 people in the neighborhood are victims of a crime.
Many of our friends and neighbors in East Fort Worth are hurting.  They need an advocate, a friend, a helping hand.  They need hope.
On their darkest days, when they listen for your voice, what will they hear?  Don't let it be silence.  Come out and join us on the Frontline!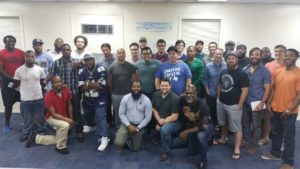 Monthly men's forum: fourth Wednesday of every month.
Upcoming Stop Six Community Engagement  Events:  September 16 and December 16 .
Weekly brotherhood: Noon lunch on Fridays at Smokey's BBQ.
For other upcoming events, stay tuned.