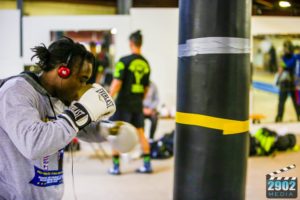 Walking up the stairs of Without Walls Church in and into the big open gym, immediately my eyes were drawn to the center of the massive room.  There, stood an object that has been a source of entertainment for decades in this country:  a boxing ring.
 As I continued my walk into the gym my eyes were glued to the two men inside that ring in the center of the gym. Using their footwork to swiftly step around each other, avoiding punches and answering with punches of their own.  The sounds of coaches yelling instructions from the corners of the ring while families and friends were sitting in the seats screaming for "their fighter" filled my ears.  It was exhilarating.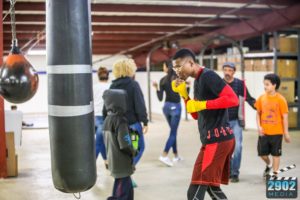 This was the grand opening of the east side boxing gym for the Fort Worth Police Athletic League. It was an exciting day where coaches, boxers, families, community members, and police officers all gathered in the new gym for the celebration.
Although the feature of the event was the sparring taking place in the ring, there were boxing gyms from all over DFW present with fighters wrapping their hands and testing themselves against those from other gyms. There were also some interactive fitness classes as well as a self-defense seminar.
Walking around the rest of the gym I found exactly what you would expect. There were speed bags hanging on walls as well as plenty of heavy bags hanging in several areas of the gym.  A fighter was warming up for a sparring session on one bag, while next to him on another bag a couple of kids were playing around, learning how to throw punches.
On one side of the gym there were health vendors and community organizations set up with tables full of shirts and brochures with representatives talking to people who were interested or curious.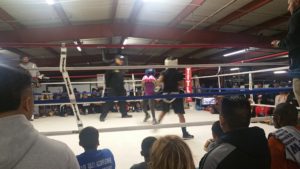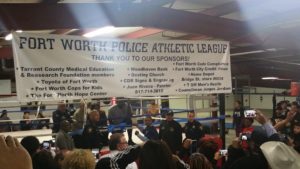 The Fort Worth Police Athletic League works to build unity between the youth of Fort Worth and the Fort Worth Police Department. Through the eastside boxing gym, FWPAL and boxing coach Kendrick Releford are accomplishing this by providing an opportunity for youth to learn characteristics such as discipline, perseverance, and respect. They are also accomplishing this by reaching out and building relationships with young men in East Fort Worth.
One great thing about the league is that it can empower those who have felt powerless, and it can teach those who have been beat down to stand back up and continue fighting. The league can help to bridge the police-community gap one conversation at a time, one training session as a time, one relationship as a time.
Families with kids wanting to register and businesses wishing to sponsor teams can get more information by calling 817-944-2725 or by emailing fortworthpoliceathleticleague@gmail.com.
The league is on Facebook: fortworthpoliceathleticleague.
The league also has a website http://fwpal.org/programs/boxing/
[Blog Post Written by Joel Snead, Families Unit Lead.]